Post by Zenith on Sept 26, 2016 14:39:08 GMT -7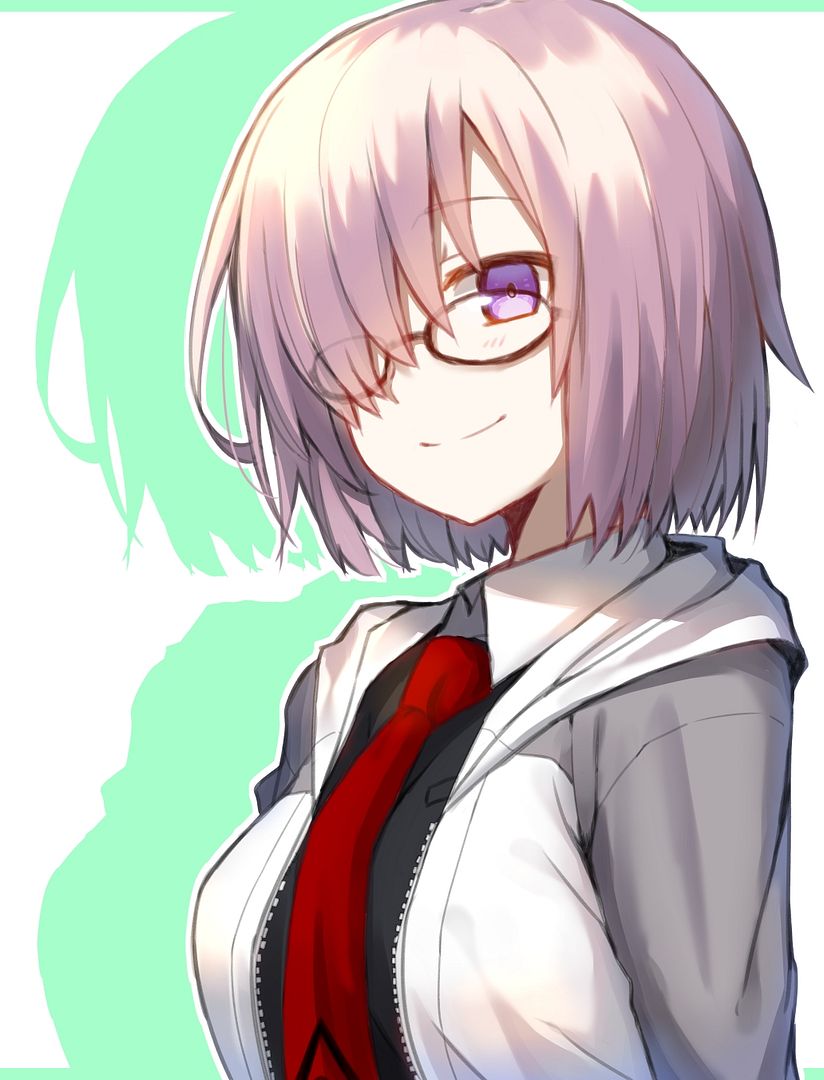 Name: Aya Sumiregawa
Age: 21
Gender: Female
Occupation: Combat Medic
Face Claim: Shielder from Fate/Grand Order

Appearance: Despite barely reaching five feet tall in height, Aya carries herself with enough confidence to stare down someone twice her size without hesitation. She's focused on keeping her body in good condition, as staying physically fit improves her chances of saving lives. Her lightweight build is more suited for running from one emergency to the next.

Generally, her selection of outfits prioritizes simplicity and ease of mobility. Unless there's a need for something fancier, Aya wears a white coat or jacket along with a simple blouse and skirt combination. Accessories include various ribbons and ties, along with a pair of glasses that don't seem to improve her vision.

Skills: Medical Expertise: For some reason she knows a lot about how the human body operates, and claims to have completed an online medical degree. Of course, it's not like there's any actual proof she attended a university.

Multilingual: To aid her many travels abroad, Aya is fluent in a large amount of commonly used languages. The exact number is unknown, but she seems to at least comprehend enough of the ones she can't speak to get by without issue.

Gardening: Lately she's been taking the time to grow her own plants, which is oddly relaxing and a good way to pass the time. In her opinion, the best tasting vegetables are always ones that Aya has raised herself. There's a few medicinal herbs and poisons mixed in with the rest, and nothing is really labeled correctly, so it's best to ask before touching anything.

Memorization: Aya can easily recall events and information from the past several years without missing a detail. It's fairly easy to store even the most useless of facts for later. Trying to remember back to her childhood is a lot less precise, but most people asking don't know the real answers either.


Personality: Throughout her career, Aya has learned to stay level-headed even in the worst situations. Saving lives can be hard work, and sometimes being successful requires taking risks, but she isn't one to back down from a challenge. She firmly believes that staying positive is the only way to get things done. Negativity and doubt only exist to prevent success. The young doctor is flexible enough that dealing with a last minute change of plans doesn't bother her at all. If the end result is still the same, it's hard to complain about the rough journey to get there.

Any personal opinions that would possibly affect her work don't get in the way of doing her job. Trying to back down after agreeing to do something just isn't her style. Once she commits to starting something, that job is going to be completed no matter what. Aya is not about to avoid responsibility or let anyone down. This determination stems from the fact that she only accepts work that she fully believes in. So far it's worked out pretty well, and is the only way she knows how to do business.

How she feels at any particular moment is never a secret. If anyone ever wants to find out her opinion, just ask. Actually, she will most likely end up sharing regardless, only occasionally remembering to use professional niceties or proper etiquette. Aya finds it difficult to lie even during moments where it would benefit her in the long run. Pretending to be nice just seems like a waste of everyone's time. She simply wants to provide the best service possible, and that's not going to happen when she isn't capable of giving a full 100%.

Not every problem deserves to be solved by someone of her talents anyway. Leave the smaller issues for the weaker teams. Aya only cares about taking on larger and more dangerous challenges. This is partly because lives off the recognition others give for her accomplishments. Being in second place is never good enough, she needs to be the best. It's the easiest way to prove that everyone still needs to keep her around to handle things that no one else can deal with.

Her way of thinking can be very self-centered at times, as makes decisions based on which option benefits her the most. If other people happen to profit along the way, so be it. Any altruism on her part is more of a happy accident resulting from more selfish desires. Aya doesn't see much of a point of worrying about larger issues of good and evil. Anything that helps one person hurts another. Instead of trying to decide which side is objectively better, why not pick the one that helps yourself the most?